Pax Christi Maine welcomed Sr. Gail Worcelo as retreat facilitator – September 26/27, 2020
Summary by Elaine G. McGillicuddy, a Pax Christi member and participant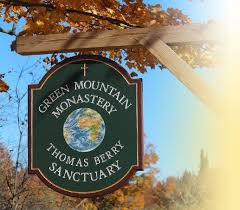 Our Pax Christi Maine community gathered on zoom for a weekend retreat on September 26 & 27, 2020. The retreat was led by Sr. Gail Worcelo, a Passionist nun who, after being mentored by Thomas Berry, a Passionist priest, co-founded with him the Green Mountain Monastery – Thomas Berry Sanctuary in Greensboro, Vermont.
Sister Gail, who has led retreats around the world on the theme of spirituality and cosmology, has been a workshop presenter and speaker at many gatherings, both nationally and internationally. Her resume is impressive.
On the first day, Sister Gail gave two presentations. She said, for example, that because the universe is a unity, monoculture is not in line with the universe. She included short video clips, a guided relaxation, and small group sharing.
On the second day, Sister Gail facilitated an Agape, sharing together Bread and the Word which was followed by reflection, listening and sharing. One of the questions posed to our group was, "Is there anything in my life I need to change?"
Before closing our retreat, Sister Gail invited us to write a cinquain, a poetic form that employs a five line pattern. Participants read these aloud. Mary Kate read the following –
Pax Christi Maine …older, wiser…loving, searching, praying…peaceful port in a storm…beauty
At a retreat follow up session on October 4th, Pax Christi members expressed their appreciation and gratitude for Sister Gail and our retreat time spent together as a faith community.